I'm gonna transform into "Old Lady Phoebe" for a moment. Back in my day, the 90s, Memorial Day was the official 'start' of the summer movie season. Nowadays, it seems like summer movie season starts sometime in February, (I kid).

Being that I'm a bit old school, I still like to use the end of May as my official starting point for my summer movies. It just fells more authentic that way. All that being said, this week, I'll present you with my list of summer movies that I'm looking forward to. I'll be doing it in the order of their release date.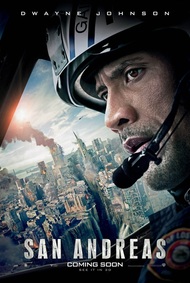 San Andreas: May 29
This one stars hulky hunk, Dwayne 'The Rock?' Johnson, and was written by Lost co-showrunner Carlton Cuse. Cuse is currently the show runner of one of my TV guilty pleasures, Bates Motes, on A&E and making it aware that he was the real talent behind the success of Lost. I gauge this on the success he is having post Lost as compares to his partner, Damon Lindelof. This movie falls into the 'disaster' genre as it's about a big earthquake that threatens America's west coast. I'll be honest, it looks like a pretty fun ride and features a pretty decent cast including Percy Jackson's, Alexandria Daddario, Fantastic Four's, Ioan Gruffurd and The Rhino himself Paul Giamatti. This movie is a good way to kick-off the summer as seems to feature everything a summer movie should, a hero trying to save someone they love and stuff either exploding or being destroyed.

PHOEBE EXCITEMENT SCALE:
<---------------------------------->
[x]
Meh. Yes!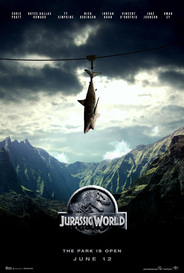 Jurassic World: June 12
I love dinosaurs and always have. As a kid, I used to make my toy dinosaurs eat my little sister's dolls. When I discovered Jurassic Park, I flipped out, and watched it so many times I broke the VHS. The subsequent sequels we okay, but nothing seemed to capture the original emotions and excitement the original had. It's been a long time since we've had a Jurassic movie and I think the wait will have been worth it. This one features fandom's new Harrison Ford, Chris 'Star Lord' Pratt, and appears to want us to relive the first movie by having the story take place in a newly reopened park. I have super high hopes for this one. With better CG technology to create the dinosaurs I expect some ferocious dinosaur action.

PHOEBE EXCITEMENT SCALE:
<---------------------------------->
[x]
Meh. Yes!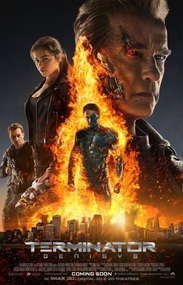 Terminator/Genesys: July 1
This is either going to be great or a big pile of doo-doo. There's no grey area for this one. Mostly because ala JJ Abrams Star Trek, this one 'changes everything' and wipes out the James Cameron canon completely. This one features a pretty good cast and gives us back what this franchise has been missing since Terminator 2, Arnold. I want to be excited for this as sci-fi is my #1 genre, but based on the trailers, I'm having a hard time. I did a captain Picard facepalm when recently the latest trailer revealed that John Connor himself is now an advanced a Terminator. Seriously?! You gave away your big plot twist in the trailer? Hopefully, there is something else that happens in this movie that makes it worth watching.


PHOEBE EXCITEMENT SCALE:
<---------------------------------->
[x]
Meh. Yes!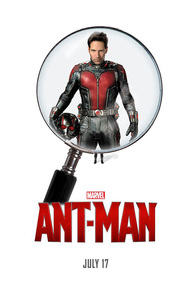 Ant-man: July 17
Like most movie fans, I was seriously bummed when Edgar Wright walked away from this movie last year. I've seen every one of Wright's films and love his style and humor. Without Wright, it's possible the world wouldn't even know about his pal Simon Pegg. When Marvel announced soon after the split that they hired a new director who's precious film was a dancing movie and the film's lead Paul Rudd was going to take a stab at a re-write, all of fandom began to get nervous. Even many industry folks were beginning to whisper that this could be the mighty Marvel's first misstep since the success of Iron Man. Then the trailers hit and for me at least, all those worries got shelved and forgotten like 90s Rob Liefield comic books. This movie looks awesome and appears to provide audiences with both comedy and action. Although it won't be as unique as an Edgar Wright film would have been, I think this film will be a bit 'out there' yet still fit into Marvels bigger picture.

PHOEBE EXCITEMENT SCALE:
<---------------------------------->
[x]
Meh. Yes!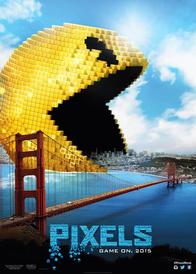 Pixels: July 24
Adam Sandler. It seems these days you either hate him or really hate him. As far as it goes for me, I've really have never seen any of his movies except for The Wedding Singer (my mom's #1 movie of all time), so I really don't have strong opinion on the guy. Since I'm not in his key demo of teenage boy, I haven't had the chance to get sick of his apparently tired gross out humor. So after all these years, it seems our paths have crossed, as one of my interests, video games had collided with one of his projects. This film was based on an Oscar winning short film of the same name and is directed by Chris Columbus. Now I don't know much about Sandler, but I do like Chris Columbus, if you don't know, he's the man that brought us Gremlins, Home Alone, and translated the world of Harry Potter off the page and onto the big screen. I'm a fan. The trailer looks fun, it has GOT's Peter Dinklage in it, and its one of the few films this year that isn't a reboot, sequel or based on a book/comic. Consider my excitement level primarily based on curiosity.

PHOEBE EXCITEMENT SCALE:
<---------------------------------->
[x]
Meh. Yes!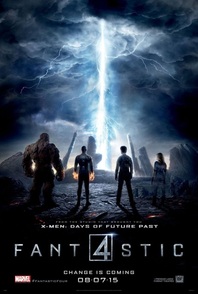 Fantastic Four: August 7
Here we go again, another shot for Marvel's 'First Family.' Maybe this time it'll be good. It's been hard to judge this one as it has been shrouded in mystery. One thing that is certain is that its director is allegedly crazy. Soon after filming began for this movie, wild stories began to be reported about his nutty on set behavior, and said behavior, is what got him fired from the upcoming Star Wars anthology film Boba Fett. All the gossip aside, this movie seems to be taking cues from the Fantastic Four Ultimate storyline written by Mark Millar. In the story, the Fantastic Four were created by time travel experiment of Reed Richards. This hard sci-fi edge may work for comics, but will probably miss with most audiences that prefer less though provoking concepts in their summer movie diet. I was a fan of the Ultimate Fantastic Four (even though it was penned by Millar) and like heavy sci-fi, so consider me more excited than most for this one.

PHOEBE EXCITEMENT SCALE:
<---------------------------------->
[x]
Meh. Yes!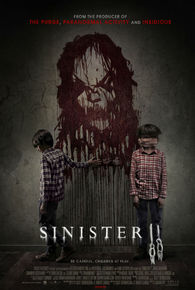 Sinister 2: August 21
I think everyone can agree that the original Sinister caught all us horror fans a bit off guard. "A horror movie with Ethan Hawk?" we said. Come on. Then we saw it and were surprised to be taken down a dark and terrifying road of physiological horror akin to The Shining. What I liked about the first Sinister was the mythology it created. It gave us a new horror 'monster' like Freddy or Jason and also felt real by having elements of a Creepy Pasta. I feel like there is more to know about in this world and I'm excited to return to its spooky world.

PHOEBE EXCITEMENT SCALE:
<---------------------------------->
[x]
Meh. Yes!

There are a lot of other movies coming out this summer, but these are the ones that have a geek like me the most excited. What are yours? Leave them in the comments below.