During the recent New Years Eve, I did what I always do: indulge in a massive movie marathon into the midnight hour with my girls. This year, core member, Margaret, decided to attend a swanky party with her new beau, Dustin, at some downtown hipster joint. LAME! So, Tiffany and I invited our new friend, Lisa, to join us for the "reel good time."

This go round of our yearly tradition, it was Margaret's turn to pick the movie series. But since she wasn't there to attend, we gave the honors to little Lisa. She's the youngest in our group at 20-years-old. Due to her excitement surrounding the new Star Wars movie, "The Force Awakens," she decided to select the Star Wars Saga. Tiffany and I rolled our collective eyes, and were immediately regretting our act of good will to our full-of-fandom friend. As a way to alleviate our annoyance, we demanded that we at least watch the unaltered editions of Episodes IV-VI, to which Lisa agreed, under protest. Kids these days...

As we were watching, "The Empire Strikes Back," there was as scene that caught my attention for the first time ever. Maybe this was due to the fact that I have never taken in the Star Wars Saga in secession before. It's the last scene on Dagobah. Luke is in his X-Wing preparing to take off for Bespin in the hopes of saving Han and Leia. The spirit of Obi-Wan appears, and tries to talk Luke into completing his Jedi training, but in Obi-Wan fashion, fails miserably at trying to convince a Skywalker do something. As Luke takes off into the atmosphere, Obi-Wan states to Yoda: "That boy was last hope" [Jedi kind]. To which Yoda retorts, "No, there is another..." Nowadays, due to "Return of the Jedi" we know that since Leia is Luke's sister, Yoda was referring to her, but at the time [1983], people must have been confused as all heck.

What struck me as this scene played out? Well, keep on reading as I present to you a shocking theory about your beloved Jedi, Yoda and Obi-Wan.

Now that we have the benefit of Episode III and know that Yoda and Obi-Wan knew about both Luke and Leia (as they were present during their respective births); the scene I just recapped, made me wonder, 'Why was Leia plan B, Yoda?' This then made me ponder: 'Wouldn't it have been a better plan to have Leia be trained as a Jedi, as she was the adopted daughter of royalty?' After thinking about these questions for quite some time, I yelled out at some point during, "Return of the Jedi:" "Hey, Leia was way better equipped to be trained as a Jedi instead of Luke!" This garnered some strange looks from Tiffany and Lisa, as they weren't privy to my internal monologue (sometimes I forget). After crashing back into reality, I explained to the gals what I was thinking about since about the Lando punch. My diatribe to them went on until about 3am.

The first thing I did, was lay out to them my evidence as to why Leia was more qualified for Jedi training, and I will present it to you here:

Based on skills that were important to the way of the Jedi as portrayed in Episodes I-III, let's see how Leia does at the start of Episode IV: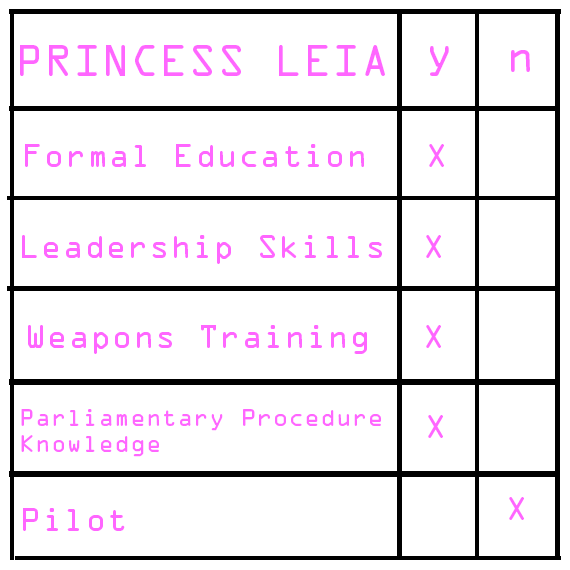 Pretty solid. There's a lot to work with there. Put a lightsaber in her hand, have her jump around a swamp, and you got yourself a Jedi that's ready to rebuild the Order.

Now let's look at how farmboy, Luke 'Whineypants' Skywalker stacks up in comparison: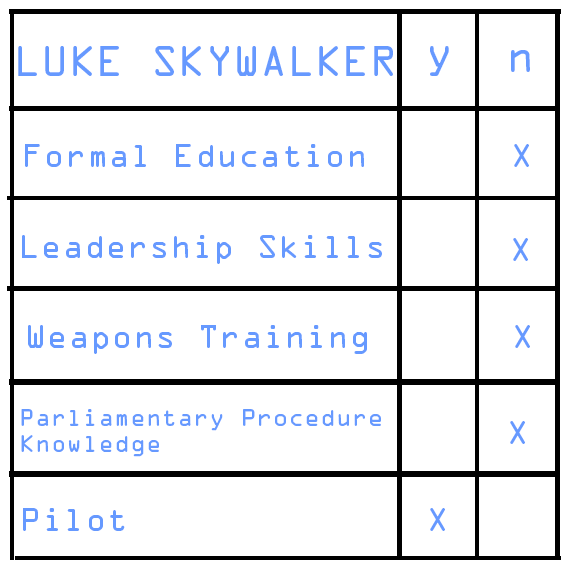 Hmmm. Not a whole lot to work with there. I'd say I'd be like training a semi-truck driver to be an MI-6 agent. It'd be a lot easier to train James Bond how to drive a semi-truck, which is essentially, all you have to do if you go with Leia.

Now, like my girlfriends, you may say: "But Luke was more 'Force sensitive' than Leia." To which I reply, "Quiet you!" Since Luke and Leia are twins, it's fair to assume that each of their collection of midi-chlorians were the exact same, and thus, would both be equally qualified to be trained into successful Jedi.

After I presented my infallible evidence, I next unfolded my theory to the ladies and now to you:

Seeing as Leia was far more qualified than Luke to be trained to be a Jedi, the only logical conclusion as to why Obi-Wan and Yoda picked Luke was because he's a man. Take notice of the line by Obi-Wan: "That BOY was our last hope.." Then Yoda says: "No there is another..." Oh, you mean Leia, Yoda? The one you were okay with letting die not 10 seconds prior, if Luke 'honored what she was fought for?' Jerk.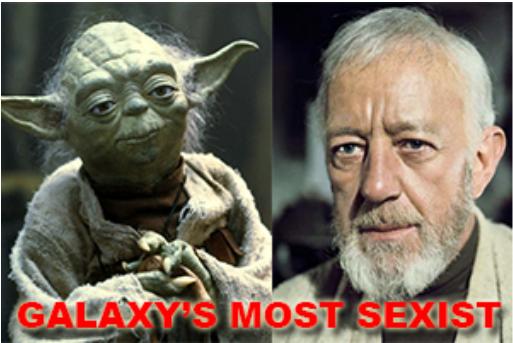 They probably thought that only a big strong man like Luke, could take down the likes of Darth Vader. Search your feelings, fans; you know it to be true. I did offer my friends the opportunity to present a counter argument, but they couldn't. They ended up giving up and fell asleep sometime around 4am. Maybe you all have some thoughts to counter this theory?

Now I realize it's just a movie and that a lot of things don't make sense with the existence of the Prequels, but I just thought the theory was something interesting to explore. Let's hope that future storytellers will consider that sometimes you just gotta send a woman in to do a man's job.

Interestingly enough, there is a comic book series, published by Dark Horse, titled "Star Wars: Infinities," that explores different story possibilities in the Star Wars universe. It's the equivalent to Marvel's popular "What If?" title.

In one of the "Infinities" runs, "A New Hope," the creative team explores what would happen if Leia was trained as a Sith by Darth Vader. Leave it to the bad guys to recognize talent. Geez...

I've read the "A New Hope" run and the other two in the series: "The Empire Strikes Back" and "Return of the Jedi" as they have been collected in an Omnibus edition and highly recommend it. All the runs are fun reads that explore everything from a Jedi Han Solo, to a good Darth Vader. You can find it here:


| | |
| --- | --- |
| You can find out more about the book on Amazon. Use either link. | |