These days, there's a lot of TV series to stay up-to-date on. Sometimes it can seem like a part-time job. Other times, there are droughts. This seems to be due to the fact that many series are moving toward a shorter episode run. As much as you are all enjoying "Game of Thrones" season 5 right now, in 9-weeks you'll again be waiting for winter to come.

So for the times you find yourself scrolling though the Netflix selections, I am starting a new feature called "The TV Vault." In these write ups, I'll present to you a series that is now over that you may have missed when it was on. The series could be American or from across the pond.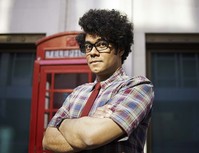 In this first write up, I'd like to present the beloved UK show, The IT Crowd. This show is about a lovable group of losers: Moss, Roy, and Jen, as they provide IT support to a large general 'company.' In their off time, they try to find companionship and friendship with little success. To fit this show into a nutshell, it's about people desperately looking for acceptance from the societies Joe Cool's but always coming to the conclusion that maybe they're the ones that need to accept who they really are. Being an outsider myself, I immediately found an affinity for each of the characters in a different way.

The show is also a laugh riot. It does borrow many beats from the 90s show Seinfeld, but it's full of sharply written banter and hilarious geek culture references. It's writing also executes it's humor in a more intelligent way then it's watered down and made for the masses American counterpart, "The Big Bang Theory."

The IT Crowd is the perfect show to pick you up and make you laugh on a rainy day. With only a scant six thirty-minute episodes per season, you can giggle your way into a sunny day. Below are the quick details for the show.

Title: The IT Crowd
Genre: Sitcom
Premise: This series tracks the trials and tribulations of the misfit IT support staff of Reynholm Industries.
Original Run: 2006-2010; 2013
Seasons/Series: 4
Episodes: 24 + 1 Special
Why You Should Watch It: If you're a geek or nerd, you'll definitely catch all the references. If you're not, you may relate to the characters if you've ever been considered an outcast or a social pariah.
Best episode: "Jen the Fredo"
Best character: Maurice Moss a.k.a. Nine
Best Season/Series: 3
Pop culture affect: Many catch phrases have been spawned from this series but none more popular that Roy's standard IT phone support advice "Have you tried turning it off and back on again." If you're a techy, you know this phrase well when your friends call you to help them troubleshoot their problems.
Where to watch: Netflix, Hulu, Amazon, and YouTube

If you check out the show, let me know how you liked it. If you're already a fan, tell me your favorite bits in the comments below.